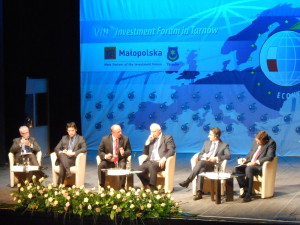 8TH INVESTMENT FORUM, TARNÓW, POLAND 2015
Ewelina took part in the 8th Investment Forum in Tarnów (7th-8th September 2015) – an annual prelude to the Economic Forum in Krynica. Panel discussions, presentations, debates and meetings gave excellent overview of the current economic situation in Poland and future opportunities for Polish business, especially in the context of the new financial perspective of the EU.
In the opening session business owners, representatives of the local government, journalists and economists were discussing the effectiveness of investment of the EU funds and challenges concerning technological innovation in the Polish economy. The panellists agreed that in the coming decades Poland needs more innovation that could replace EU funding as a flywheel for the Polish economy.
The Forum participants had then an opportunity to listen to some very interesting business presentations. Paweł Jarczewski, the President of the Board and Krzysztof Jałosiński, Vicepresident of the Azoty Group – the largest chemical company in Poland and one of the strongest brands in the European chemical market – shared some key points fromthe Group's strategy as compared with the European and world-wide chemical market. Another excellent presentation was given by Grzegorz Nowaczewski, Member of the Executive Board of Virtual Power Plant Sp. z o.o. and concerned the problematics of new energy, electricity saving potential and using "Negawatt power" as a new resource.
During the afternoon session young Polish entrepreneurs gave the audience some really inspiring talks on the role of corporations in creating business incubators and accelerators (Agnieszka Lewandowska, President of the Board, Fundacja Startup School), good practice in building local and global start-ups (Michał Sadowski, Founder and Chairman of the Board, Brand24), the start-up scene and its future in Poland (Artur Kurasiński, Founder and Chief Executive Officer, MUSE) and the legal framework and the ecosystem for building a scaled start-up (Michal Kordaczuk, Co-Head of Dentons Poland Startup Program, Dentons).
For Ewelina it was especially interesting to have a closer look at different business models of "traditional" companies such as the Azoty Group, operating successfully in the tangible industry of chemical products, and the new-tech businesses selling customised software applications and operating mostly via Internet, such as Virtual Power Plant or Brand24. Undoubtedly, both "traditional" and "new-tech" companies are very much needed and can successfully complement one another in the ecosystem of Polish economy and international markets, but the main challenge for all of them remains the same: they need to be innovative.